Menu Update at Farmboy Market, Meats, Sandwiches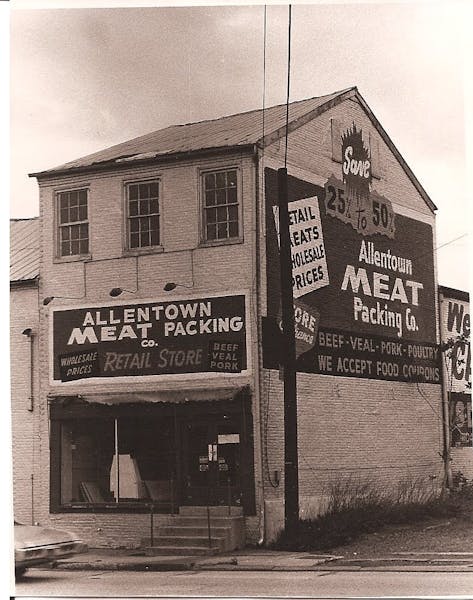 We opened Farmboy on May 16, 2018; having completed construction only a few days earlier. The development of the Farmboy concept was not on a whim, it was after years of research and tinkering with the mission, menu and recipes. You might say that this restaurant is in our blood, and that this concept was originally developed by my great-grandfather, Aaron Molovi(e)nsky, back in Allentown, Pennsylvania in the early 1900's. Some pictures below show his original butcher shop, and an ad in the paper requesting local farmers to sell him cattle. My grandfather continued the tradition, and also owned butcher shops, grocery stores, and even a couple of burger joints (before the Golden Arches came along). On my mother's side, my grandparents were farmers; providing citrus, eggs, and meat chickens to local grocery stores.
We believe that we have created a concept that will not only endure for its great menu, quality ingredients and naturally delicious flavors; but also for our commitment to the family farming community here in Arizona. Now that we are working daily with the cornucopia of meats, fruits, veggies, legumes, grains, craft beers & wines…we can only say that we have truly hit the mother lode of delicious food and drink. Arizona has a tremendous local food movement underway; which we believe will lead to better soil, and as such a great environment for our children and grandchildren to enjoy.
Now that we are two months into our opening, we have been able to understand the reality behind the cost of bringing these delicious products to our guests. We don't want to cut back on portions, nor tinker with quality (except to improve it whenever we can). We are obsessed with providing the best sandwich you can find…anywhere. We smoke our meats daily; procuring them from farmers and ranchers we know and trust; with wood we pick up ourselves from harvesters we know and trust. Great care goes into every sandwich…and as one of the many sayings on our wall reads, "It's not just about what's on the plate; and that's what makes it a great dish".
Another commitment we have is to strengthening our entire community; and to bringing opportunity to those who otherwise may have been overlooked. Our team members have made a commitment to contribute any tips to Playworks-Arizona; which is a phenomenal non-profit that is teaching responsibility and conflict resolution to youth throughout the state…and beyond. We pay a fair wage to our staff, without asking you, the guest, to supplement their income with tips. If you choose to make a contribution to our "tip jar", you can be assured that your money is going towards enriching our community from within.
We know you will find value in every meal at Farmboy; and that with every penny you spend, you are enriching the fabric of our farming community, and nurturing the inner soul of Chandler, Phoenix, and Arizona. As Michael Pollan aptly wrote, "Cheap food is an Illusion".
If you have any questions, or would like more information. Please call me at the restaurant, 480-361-2153; or email me at contact@farmboyaz.com.
Sincerely,
Oren Molovinsky - Owner