Farmboy Market, Meats, and Sandwiches Announces new menu items; and a collaboration with Grace Farms in Chandler, Arizona to support Arizona Ranchers, Farmers, Winemakers, Distillers and Craft Brewers through a series of outdoor pop-up dinners.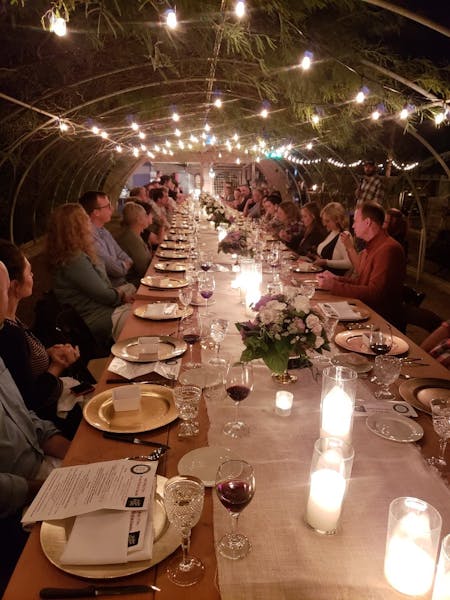 Monday, November 26, 2018
Farmboy Market, Meats, Sandwiches
1075 W Queen Creek Rd; Suite 1, Chandler, AZ 85248
480-361-2153 www.farmboyaz.com www.facebook.com/farmboyaz
Oren Molovinsky, Owner oren@farmboyaz.com 480-359-6270
FOR IMMEDIATE RELEASE: Farmboy Market, Meats, and Sandwiches Announces new menu items; and a collaboration with Grace Farms in Chandler, Arizona to support Arizona Ranchers, Farmers, Winemakers, Distillers and Craft Brewers through a series of outdoor pop-up dinners.
Chandler, Arizona – Recently, Farmboy has added several menu items that enhance the flavor profiles offered at the restaurant, as well as help to utilize some unique farm-raised products. This includes "The Cuban Guajiro" sandwich; which utilizes a house brined and smoked ham from Wilson Farms (Buckeye-AZ). Chef Dennis Bagnasco combines the grilled ham with pecan-smoked pulled pork, which is marinated in his own Adobo sauce. Another addition is "The Benson Pulled Chicken" sandwich, named after the community where Top Knot Farms is located, near Tucson-AZ. The Benson features pulled chicken, and herbed Chevre made of fresh basil, grown on premise at Farmboy; and a Chevre-Quark spread, made with cheese from Crow's Dairy (Buckeye-AZ).
Arizona Craft Beers, Wines & Spirits are carefully selected to pair well with locally sourced menu items. Several recent Arizona Winemaker & Brewer Dinners have introduced guests to the world-class winemaking & brewing culture in Arizona. Farmboy has also teamed up with Grace Farms of Chandler for a series of pop-up dinners, which emphasize the importance of eating well and knowing where your food comes from. Farmboy & Grace Farms have also introduced "The Green Box", a subscription-based weekly food box, that blends a CSA with a prepared meal box. The pop-up dinners and Green Box highlight the best of Arizona; with an emphasis on excellent quality, and menu items that appeals to serious diners and home cooks. However, behind each endeavor, lies a deep-rooted passion for building the local family farm economy; and bringing farmers, producers & consumers together to nurture a much healthier food system.
___________
Farmboy Market, Meats, Sandwiches, opened its doors on May 16th, 2018 at 1075 W Queen Creek Road, Suite #1, Chandler, Arizona, 85248 (SW corner of Alma School & Queen Creek Roads). Guests at Farmboy enjoy authentic Smoked Meats, Soups, Salads and Sandwiches, in a rustic and comfortable environment. The restaurant is designed specifically to ensure an engaging dine-in experience or a quick and enjoyable carry-out experience. The meats are primarily smoked or grilled, using real Arizona wood, ensuring a "low and slow" approach to barbecue. The traditional culinary elements of Farmboy are accentuated by locally sourced ingredients, with meats that are raised and butchered nearby. Long fermentation sourdough bread is baked on site, with organic Heritage grains grown in Arizona. Fresh fruits and vegetables are grown by local farmers and are typically harvested right before they are delivered. Farmboy strives to purchase whole foods and ingredients that are not processed, and if minimally so, they are handled by small family-owned operations that handle as much of the process as possible. Farmboy solves this omnivore's dilemma by utilizing the "nose to tail" approach to meat purchasing; taking advantage of the "lesser cuts" by using traditional smoking methods, which turns top rounds into tender roast beef; chuck roasts and briskets into rich cuts of chopped beef; and the trimmings for wood-grilled burgers (sliders). Local poultry is smoked whole, one of greatest delights of smoked meats. Pork is smoked by the half hog, with almost all the delicious cuts blended into pulled pork; all prepared in front of the guest in a large wood-fired J&R smoker; displayed for all guests to see the entire cooking process unfold.
OREN MOLOVINSKY FARMBOY - OWNER
Oren owns and operates Farmboy Market, Meats & Sandwiches. He has been working in restaurants since 1986; and in foodservice management since 1990. With a rich career working his way up from a dishwasher and prep cook, through the ranks to his most recent position as a Vice President of Operations for several major restaurant groups. Oren has opened and operated well over 70 restaurants in his career; including Delicatessens, bagel cafes, hotel restaurants, fine dining restaurants, and fast casual burger restaurants.
Prior to moving to Arizona with his wife Diana, and their 5 kids in 2011; Oren was the managing partner of several fine dining restaurants in the Washington, DC area for over 9 years. In this role, Oren led a group of restaurateurs and chefs to form a buyer's group, which purchased meats, cheeses, eggs, vegetables and fruits from local farmers and producers; mostly in Virginia. Oren personally coordinated the farm tours, purchasing agreements, processing, and logistics of getting all of these meats from "farm to table". This group, known as Farm to Table DC, purchase an average of $1,000,000 per year of local, natural & organic products. All of these funds went directly to the producers, there were no middlemen. Oren became an expert in developing "nose to tail" menus; which is a culinary term for purchasing all the meat and edible items from the cattle, pigs, lamb, and chickens that the group could purchase. This led to many farms and farming communities expanding their capacity to provide for the many chefs who were clamoring for local products.
In 2011, Oren and his family had the opportunity to move to Arizona, to be closer to family. He and his wife Diana purchased 3.5 acres in Chandler, AZ on a Maricopa County island, which is now Mo'lovin Farms. Oren & Diana have planted over 350 fruit trees and plants. Additionally, they have successfully planted and harvested heirloom vegetables and will continue to do so. The Molovinsky's are committed to farming organically, without the use of any chemicals. Growing organically ensures superior soil, and the result is superior produce.
Oren is also a founder and partner of a critically acclaimed restaurant in Arlington, VA called Mala Tang. Together with his operating partners, Oren has been able to bring authentic Sichuan cuisine from the revered food city of Chengdu, China, with an emphasis on Hot Pot dining.
DENNIS BAGNASCO CHEF – FARMBOY
Dennis is the culinary force that transforms Farmboy from a Sandwich & BBQ shop by day, to a team of culinary professionals executing complex wine, beer, and distilled spirit dinners & tastings. Dennis's range is extraordinary, and is able to gently tease natural flavors out of proteins, vegetables, fruits and grains that truly redefine Southwestern cuisine.
Dennis was the chef for many years at the Mining Camp and Dutchman's Hideaway in Apache Junction; and has come to Farmboy with a renewed energy, focused on utilizing a nose-to-tail approach to cooking. Using mostly wood smoke & fire, Dennis has created an incredible array of menu items at Farmboy, and carefully paired dishes for special events.
PETER DEELEY FOUNDER & OWNER – GRACE FARMS & A Well run life
Peter has created the Farm of The Future! He is also a tireless advocate for treating our society's health problems through nutrition, in the form of whole foods rather than pharmaceuticals. Peter is also a successful executive, and a health coach. As a health coach, Peter has helped many to benefit from the understanding that eating well, has a direct relationship with your health.
Grace Farms grows food aquaponically and aeroponically; and uses 90% less water and land than traditional farms. Weekly food boxes are available. Grace Farm's goals are to work with motivated people who understand the connection between the food they eat, the way they feel and their overall wellbeing. Believing that we need a revolution in the way that we think about the way we grow food, prepare and eat food. Obesity has tripled since 1980. Human beings did not change their behavior, nor their DNA in that short period of time. The environment in which they lived changed that dramatically. In a country spending $322 Billion Diabetes every year, being healthy has become a revolutionary act. Let's resist those forces that are based on profit rather than health and wellness. #revolt