Farmboy Heritage Grain Sourdough rolls...Delicious, Nutritious, Organic!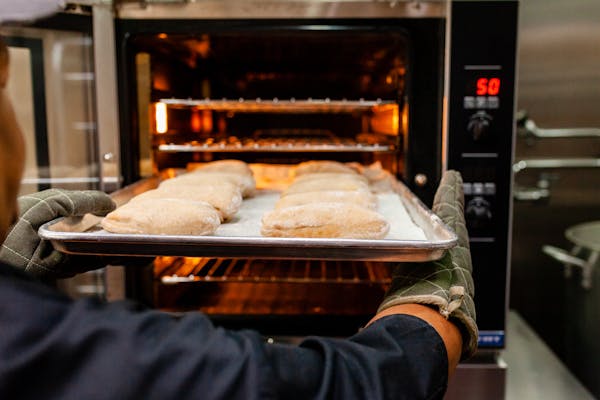 A truly memorable sandwich needs to be crafted with the best ingredients; pecan-smoked meats, locally grown produce, house-made sauces and condiments, and of course the bread is EVERYTHING! When we were researching great rolls, we met Don Guerra, owner of Barrio Bread in Tucson, AZ. Don taught us how to make the best bread we could have ever imagined.
As a result our Sourdough sandwich and slider rolls are:
Made with 100% organic, heritage wheat flour. 20% of our flour is a live grain Sonoran wheat, which means it is milled without sifting or further processing. Sonoran wheat is grown in Arizona, and native to the Sonoran desert! This means more nutrition. If you purchase live grain flour, it needs to be refrigerated. Most processed flour in the store, is not live, which means you are not getting the nutritional value you need from the plant...rather you are getting it from added vitamins.
We long-ferment our bread for 24+ hours. This means that we produce our sourdough with a "mother", which is a starter that we saved from the original batch (Don Guerra gave us our first mother...so it started long before Farmboy). Long fermentation breaks down the enzymes that cause some breads to be hard to digest; especially for those with Gluten sensitivities. So our Sourdough rolls are not only delicious and nutritious, but also very easy to digest.
Finally, we bake our breads in a steam-injected oven. This allows for a nice crust, and soft inside. It holds up very well with hot sandwiches, and is incredible for toasting, making grilled cheeses (and even individual pizzas!)
How to enjoy our bread at home!
When buying our bagged rolls, all you need to do is throw them in the fridge when you get home (yes they are perishable - about 5 days at room temperature max). You can heat your toaster oven or traditional oven to 400 degrees, and once it is at temperature, put the rolls in for about 5 minutes. Pull them out, let them cool for a minute or so, and then slice them open. It's like you just baked it from scratch! They are wonderful as toast as well, just like you would toast any other bread or bagel.
To reserve fresh rolls, Call us at 480-361-2153 or email contact@farmboyaz.com. We typically need 36 hours notice so we can make extra dough for larger orders. We almost always have bagged rolls in the market.